WESTERN : STEAK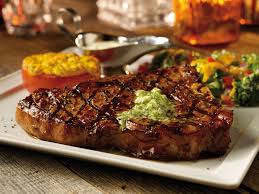 A steak is generally a cut of beef sliced perpendicular to the muscle fibers, or of fish cut perpendicular to the spine. Meat steaks are usually grilled, pan-fried, or broiled, while fish steaks may also be baked.
Steak can be cooked to a level of very rare (bleu, a cold raw center), rare, medium rare, medium, medium well done, or well done. Beef, unlike certain other meats, does not need to be cooked through. Food-borne human illnesses are not normally found within a beef steak, though surfaces can potentially be contaminated from handling, and thus, very rare steak (seared on the outside and raw within) is generally accepted as safe.
A steakhouse is a restaurant that specializes in beef steaks. Usually, these steaks are made to order and are served with sides, such as bakes potatoes and vegetable. The same type of restaurant is also known as a chophouse. Most steakhouses also offer other cuts of meat such as prime rib, veal cuts and often, seafood.