Tony Roma's @ The Gardens
Tony Roma's is the largest casual theme restaurant chain specializing in ribs in the world. Tony Roma's serves its signature ribs, world famous onion loaf, and other steak, chicken and seafood entrees.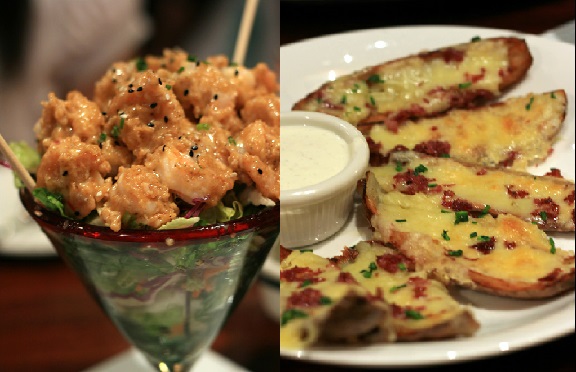 Kickin' Shrim - tender fresh shrimps are fried to crispy golden brown and tossed in a creamy and slightly spicy sauce, then stacked nicely on a bed of green salad
Potato Skin - topped with cheddar cheese and beef bacon; ranch dressing – a condiment made of mostly sour cream and mayonnaise served as the dipping sauce.

Bountiful Beef Ribs is a plateful of big, meaty beef ribs basted with Tony Roma's sauces. There are two types of serving size: Roma Rack @ RM49.90 or Full Rack @ RM68.90
Another Tony Roma's signature steaks – Grilled Lamb Chops - three choices of topping (Bleu Cheese Crust, Shiitake Mushrooms or Caramel Glazed Onions) can be added with charges.
Grilled Pacific Cod served with Kickin' Sauce

Roasted Garlic & Rosemary Chicke - grilled boneless chicken served with rosemary sauce & sprinkled with romano cheese
Mojo Chicken - Served with brown mustard sauce & topped with pineapple salsa

Fiery Cajun Burger; Steakhouse Burger; Wild Mushroom Havarti Burger
If you enjoy big treats, Tony Roma's is the go-to place for their generous portions.
*Price Range (per person): RM30 ~ RM50
Address
Contact Info
Business Hour
The Gardens Lg217 Lingkaran Syed Putra, 59200 Kuala Lumpur