INTERNATIONAL : SPANISH CUISINE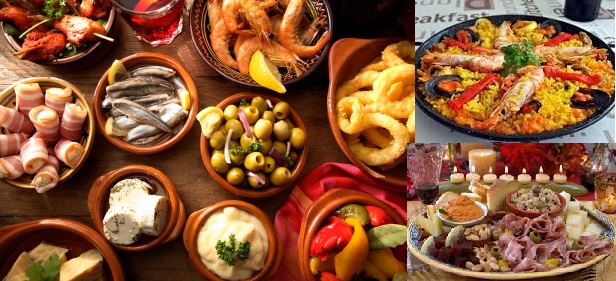 Spanish cuisine is a way of preparing varied dishes, which is enriched by the culinary contributions of the various regions that make up the country. It is a cuisine influenced by the people who, throughout history, have conquered the territory of that country.
The top 5 typical Spanish food dishes:
Paella - traditional Spanish dish from Valencia. It is a rice dish that can have meat, fish, seafood, and vegetables and is characterized by its use of saffron to give it a yellow color and unique flavor. There are three main types of paella:
Valencian paella/paella valenciana: rice, green vegetables, rabbit, chicken, or duck, snails, beans, and seasoning.
Seafood paella/paella de marisco: rice, seafood, and seasoning.
Mixed paella/paella mixta: combination of seafood, meat, vegetables, beans, and seasoning.
Jamón serrano and jamón ibérico - dry-cured Spanish hams that are served in thin slice. jamón serrano is typically made from the Landrace white pig, jamón ibérico, which is much more expensive, is made from black Iberian pigs.
Queso manchego - sheep's milk cheese from the La Mancha region of Spain.
Tapas - Spanish food tradition composed of small dishes of different types of food, like appetizers or snacks. The dishes may be cold (jamón serrano, queso manchego, olives, etc.) or warm (tortilla española, meatballs, etc.) and can be served as bar food or as complete meals.
tortilla española - omelette-like potato dish, fried in olive oil, and served as a tapa. It is a filling and flavorful dish (with the addition of chopped onions) and can be served in slices, warm or cold.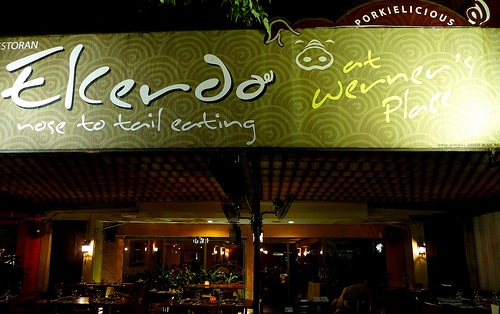 El Cerdo
Address :
43 & 45, Changkat Bukit Bintang, 50200 Kuala Lumpur, Malaysia
Contact No :
03-2145 0511
Business Hour :
Sun-Fri, 12pm - 3pm;
Daily, 6pm - 11pm
Website:http://elcerdokl.com/
*non-halal restaurant