Angus House @ Publika
Angus House (Japanese Charcoal Steak) is a venue that promotes international western cuisine with a Japanese touch thrown in.
With its new branch opened at Publika, offers and serves American and Italian cuisines delicately infused with Japanese flavours and style. Angus Charcoal Steak House was shortlisted in the Best Steak House category of the
Time Out KL Food Awards 2010
.
Steak, seafood and salad served are complimented with the best of Japanese flavors. Find your salad laced with Japanese wafu dressing or taste the unconventional steak sauce made up of Japanese soy sauce. Fuji apple, radish and mirin to create a tangy sweet taste. Not to worry if you prefer a familiar tasting sauce as the outlet has mushroom and black pepper sauces on stand-by. Besides steaks and seafood, the outlet also has a variety of pasta dishes on our menu.
The restaurant strives to serve excellent quality of good food and offers great service to its patrons. It is famous for the Charcoal Grilled Black Angus Beef Steak, Spaghetti with Salmon Roe & Ablone, Wagyu Beef Steak, Master KOBE and Tiramisu.

Its varied selection of charcoal-grilled or charbroiled steaks using the finest, chilled Master Kobe, Wagyu and Black Angus beef.
These pampered cattle breeds are prized for their rich fat marbling which melts into the meat when cooked, infusing it with intense flavours and resulting in a juicy texture that makes every bite, a heavenly one.
While the Wagyu and Black Angus are a cut above regular beef with a marbling ratio of at least nine, the Master Kobe is preeminent among those seeking an ethereal gastronomic experience, with a rating of 10.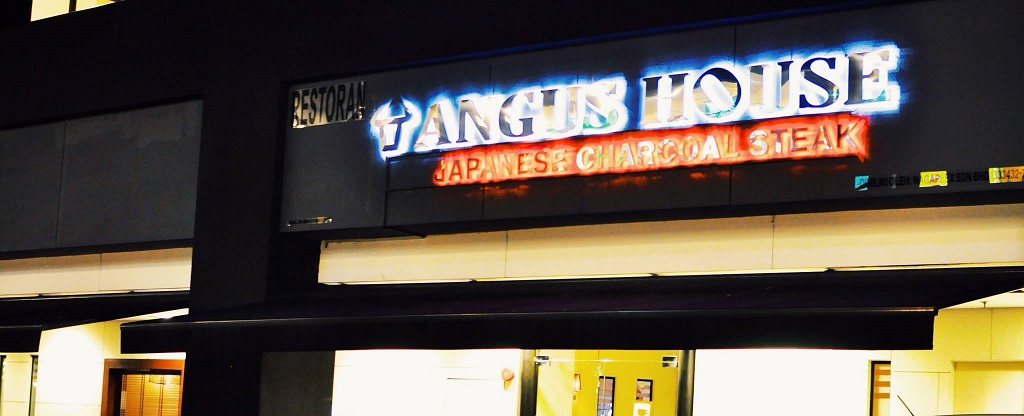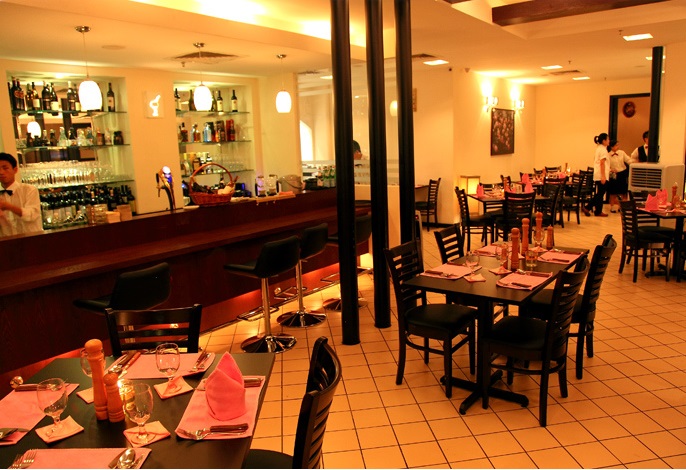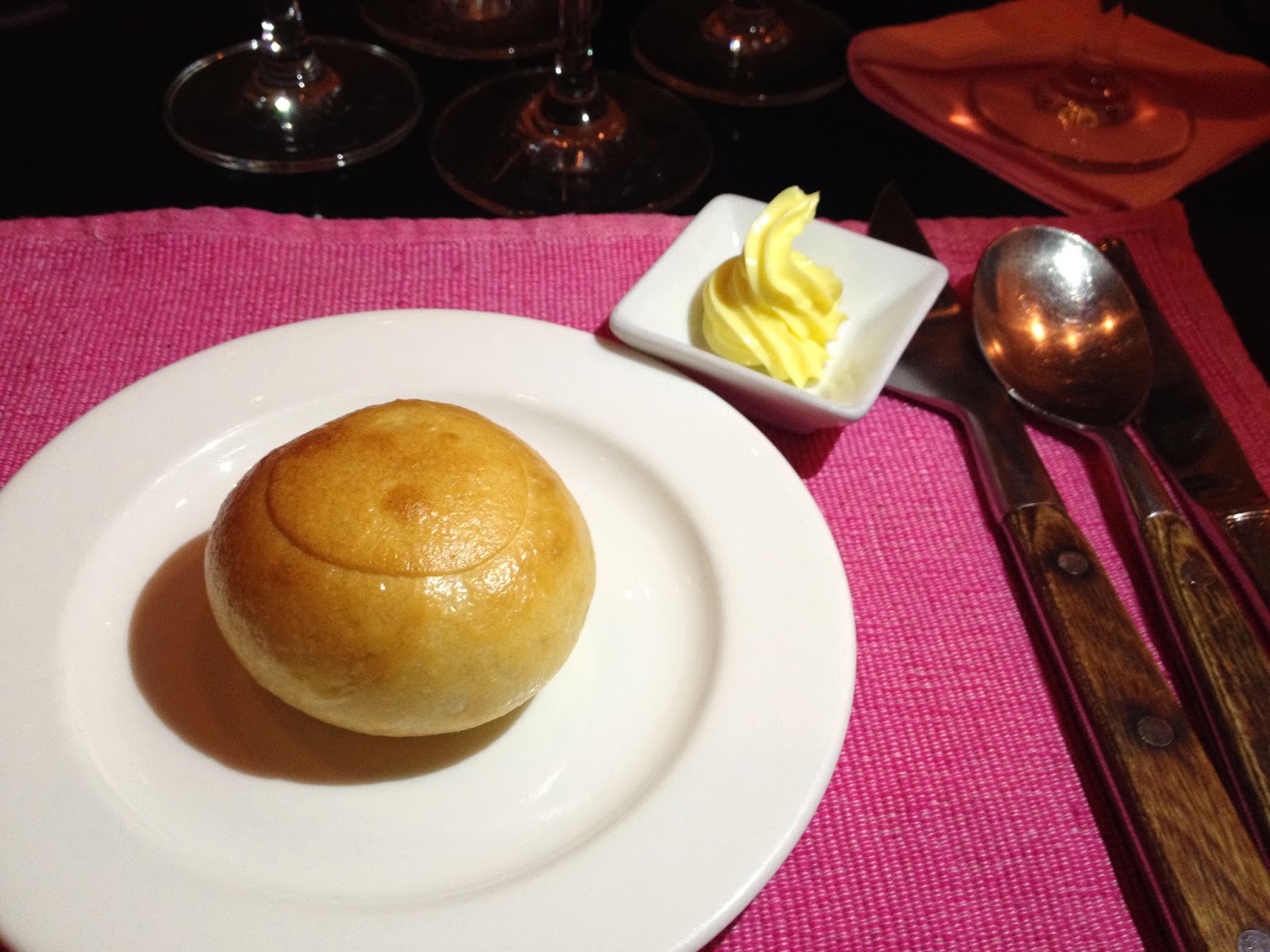 Homemade Bread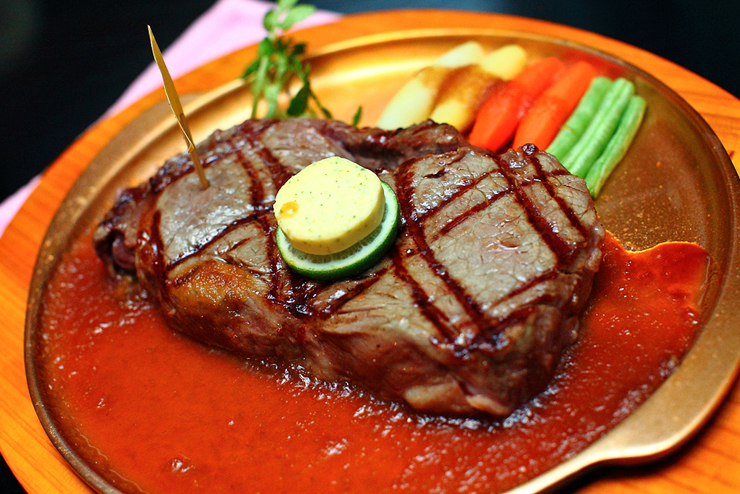 300g Rib Eye Steak
@ RM130 - Meat done good with radish and mirin sauce
Wagyu Beef Steak - Being a steak house, it is naturally the chef's speciality and the best thing to order. The Wagyu Beef Steak, Master KOBE does not dissapoint. It comes in a generous stab of juicy wagyu beef that has an exquisitely tender texture and incomparable, luxurious taste, doused in flavoursome sause.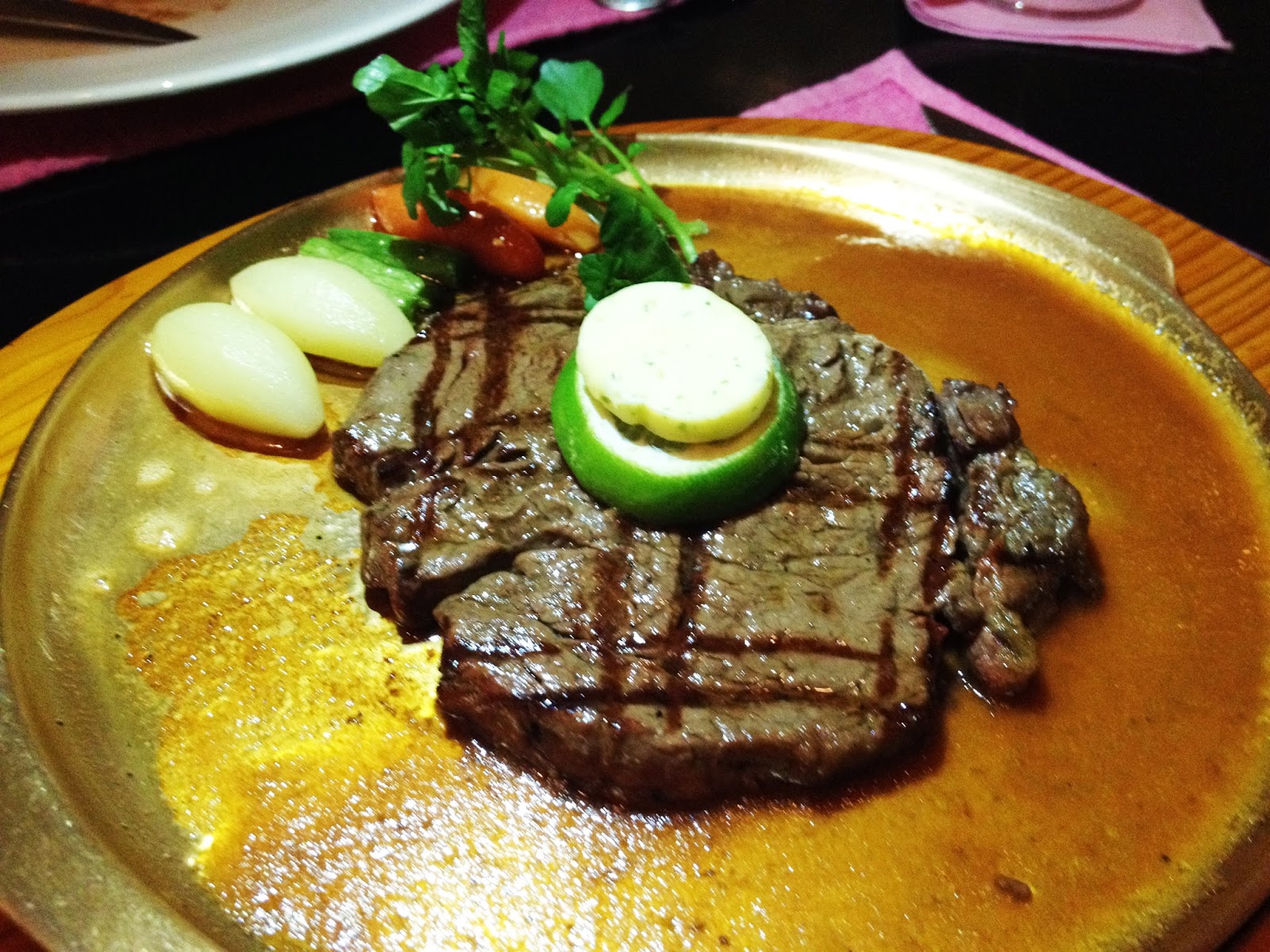 Wagyu Tenderloin Beef Steak
- Wagyu ( literally "Japanese cow") refers to several breeds of cattle, the most desired of which is genetically predisposed to intense marbling and to producing a high percentage of oleaginous unsaturated fat. Prepared medium well, the meat is not only succulent but also full of different special odors.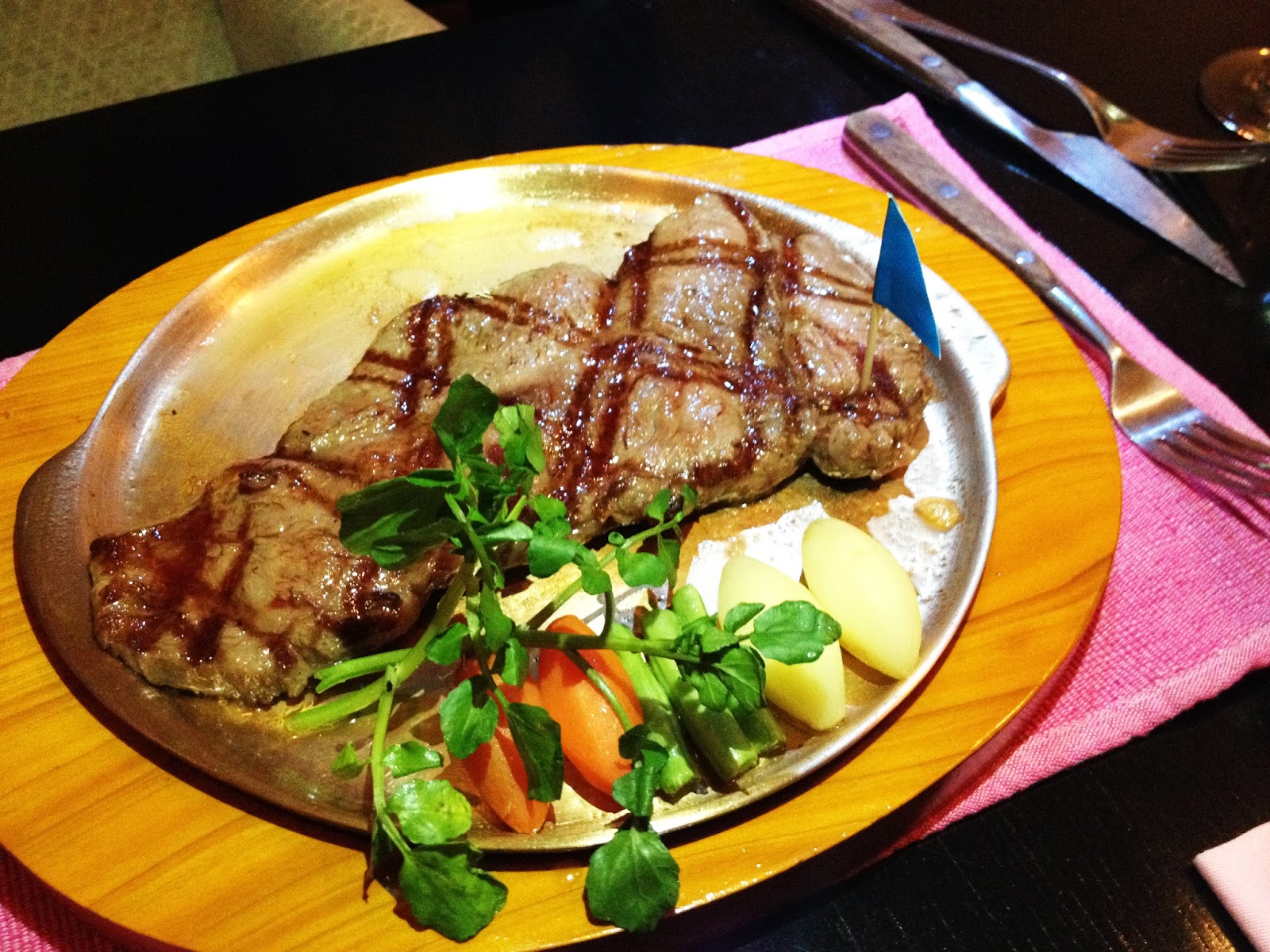 Master Kobe Sirloin Beef Steak
- Kobe beef is from Tajima strain of wagye cattle, which raised in Hyogo Prefecture, Japan. The meat is famous for its flavor, tenderness, and fatty, well-marbled texture.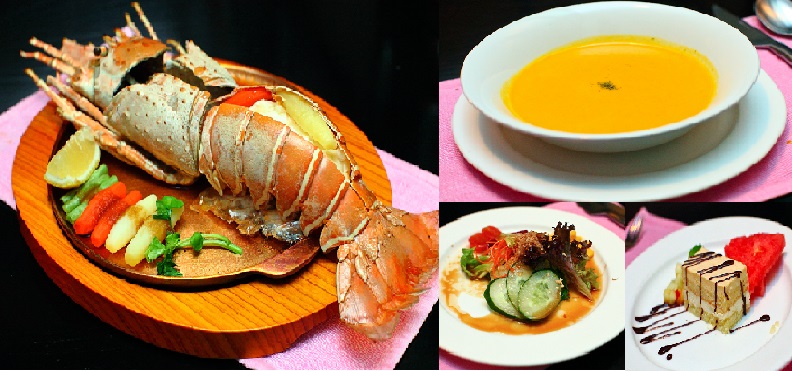 Lobster set
@ RM172 - includes an appetizer, salad, soup and dessert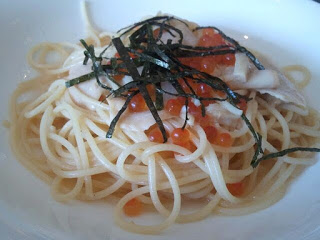 Spaghetti with Salmon Roe & Abalone - demonstrates an excellent fusion of Italian and Japanese flavours. The light sauce allows the natural flavours of the salmon roe and abalone to be savoured.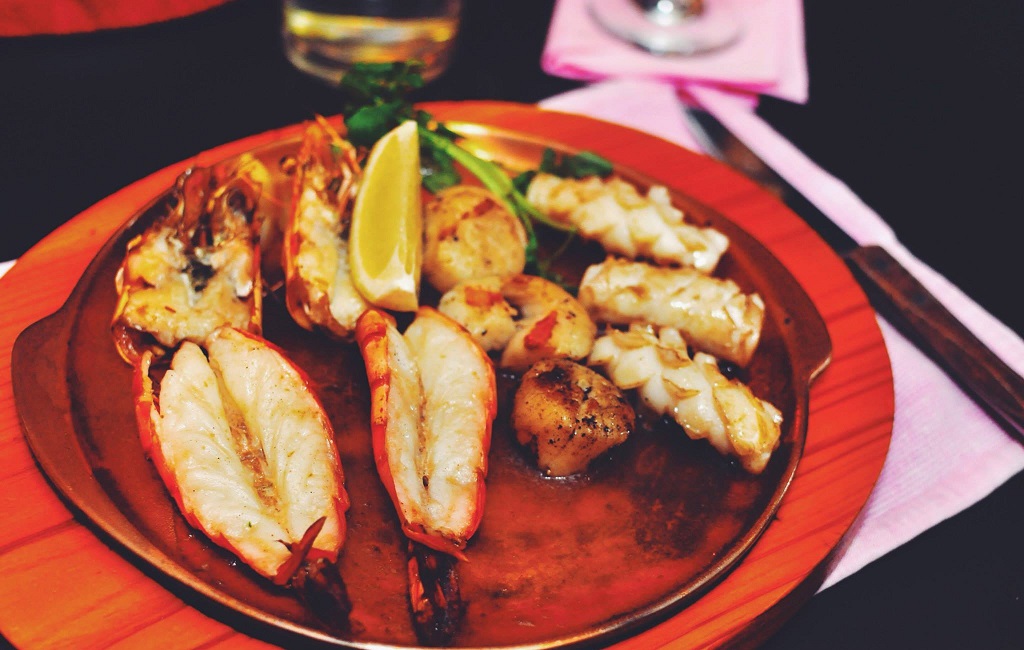 Mixed Seafood Grilled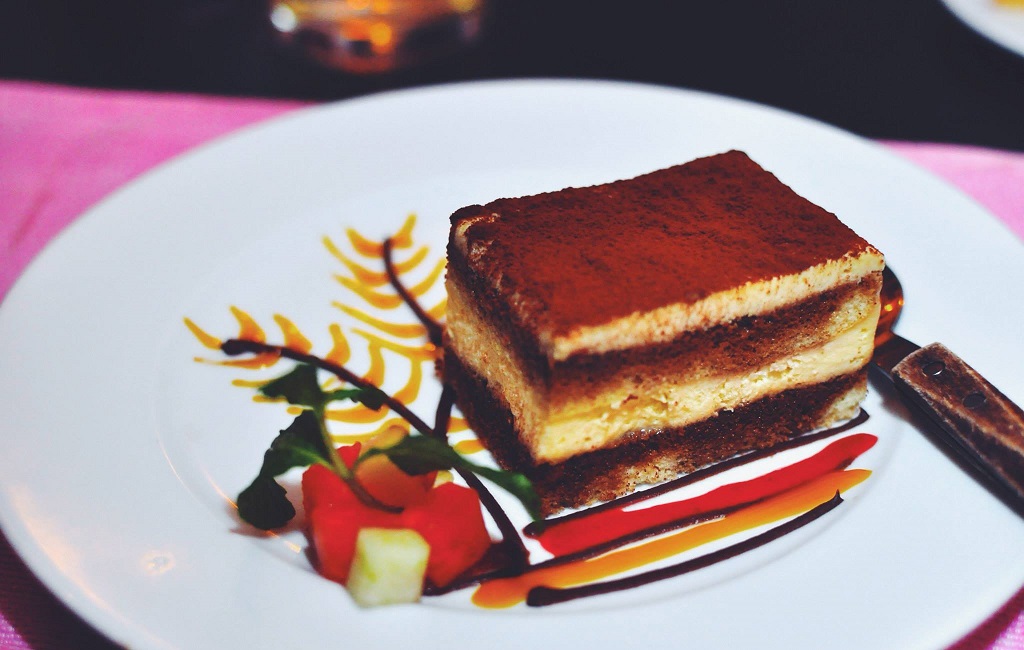 Tiramisu -
Beautifully presented, this wonderful dish just melts in your mouth and is a treat for the eyes as well as the palate. It is served with slices of strawberries, kiwis and mangos, all of which taste fabulous when dipped in the melted black and white chocolate drizzied around the tiramisu.
Food and price at Angus House is premium, a place for a premium steaks. Value-conscious diners might find the Set Lunch, priced from RM22 ++ onwards, an enticing option. There are 17 choices, ranging from Japanese-styled beef, chicken and seafood bento sets to hearty pasta meals.
*Price Range (per person): RM150++
Address
Contact Info
Business Hour
Lot 4 & 5, Level G2, Publika Shopping Gallery, No.1, Jalan Dutamas 1, Solaris Dutamas, 50480 Kuala Lumpur.
Tel :
03-6205 3915/6
Fax :