CHINESE : CANTONESE CUISINE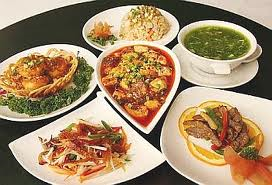 Cantonese cuisine comes from Guangdong province and is one of the Eight Culinary Traditions of Chinese cuisine. Its prominence outside China is due to the great numbers of early emigrants from Guangdong. Cantonese chefs are highly sought after throughout China. When Westerners speak of Chinese food, they usually refer to Cantonese cuisine.
Guangdong has long been a trading port and many imported foods and ingredients are used in Cantonese cuisine. Besides pork, beef and chicken, Cantonese cuisine incorporates almost all edible meats, including offal, chicken feet, duck's tongue, snakes, and snails. However, lamb and goat are rarely eaten, unlike in the cuisines of northern or western China. Many cooking methods are used, with steaming and stir frying being the most favoured due to their convenience and rapidity. Other techniques include shallow frying, double steaming, braising, and deep frying.