JAPANESE : GRILL TEPPANYAKI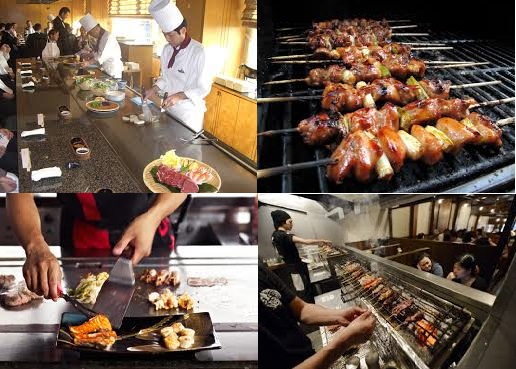 Japanese grill also known as Yakiniku, in its broadest sense, refers to grilled meat dishes. It commonly refers to a Japanese style of cooking bite-sized meat (usually beef and offal) and vegetables on gridirons or griddles over flame of wood charcoals carbonized by dry distillation (sumibi, 炭火) or gas/electric grill. May also referring to grill up meat on sticks, a truly grilled meal, cooked over a hot, direct heat.
Teppanyaki (鉄板焼) is a style of Japanese cuisine that uses an iron griddle to cook food. The word teppanyaki is derived from teppan (鉄板), which means iron plate, and yaki, which means grilled, broiled, or pan-fried. In Japan, teppanyaki refers to dishes cooked using an iron plate, including steak, shrimp, okonomiyaki, yakisoba, and monjayaki.

Modern teppanyaki grills are typically propane-heated flat surface grills and are widely used to cook food in front of guests at restaurants. Teppanyaki grills are commonly confused with the hibachi barbecue grill, which has a charcoal or gas flame and is made with an open grate design. With a solid griddle type cook surface, the teppanyaki is more suitable for smaller ingredients, such as rice, egg, and finely chopped vegetables.