JAPANESE : SUSHI AND SASHIMI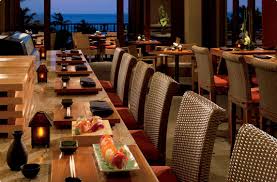 These are Japanese restaurant where serve various japanese food typically sashimi, sushi, tempura, Donburi, soba, udon, and etc.
Sashimi is raw seafood. A large number of fish can be enjoyed raw if they are fresh and prepared correctly. Most types of sashimi are enjoyed with soy source and wasabi.
Sushi may refer to any dish that contains sushi rice, cooked white rice flavored with seasoned rice vinegar. There are various kinds of sushi dishes, such as nigirizushi (hand formed sushi), makizushi (rolled sushi), and chirashi (sushi rice topped with raw fish). Sushi is the most famous Japanese dish outside of Japan, and one of the most popular dishes among the Japanese themselves.
Tempura consists of seafood, vegetables, mushrooms, or meat coated with batter and deep fried. The resulting food has a light, but crispy texture, that may be seasoned with salt or dipped in a light sauce before eating. Tempura was introduced to Japan by the Portuguese in the 16th century, and has become one of Japan's most famous dishes internationally.
Donburi refers to a bowl of plain cooked rice with some other food on top of it. It served at specialty restaurants, but they are also a common dish that can be found on all kinds of restaurants' menus. Some of the most popular varieties are gyudon (stewed beef), katsudon (tonkatsu), tendon (tempura), oyakodon (chicken and egg), tekkadon (maguro), and kaisendon (raw seafood).