Purple Cane Tea Restaurant 紫藤茶原 @ The Gardens
"Spicing up with Tea", the tagline of Purple Cane Tea Restaurant.

Purple Cane Tea Restaurant, 紫藤茶原 a Chinese restaurant with healthy food concept of infusing tea with food, advocates a modern concept of light but flavourful dishes with less salt, oil, sugar and no artificial flavours while retaining the original aroma of tea. With over 50 appetizing selections prepared with different types of tea including tea beverages, soups, vegetables, seafood, meat (pork free), noodles and rice as well.
Can order from the ala-carte menu with portion size; set menu also available. Set menu may differ time to time. In addition, let them know if you are a vegetarian as the kitchen is able to prepare your dish accordingly.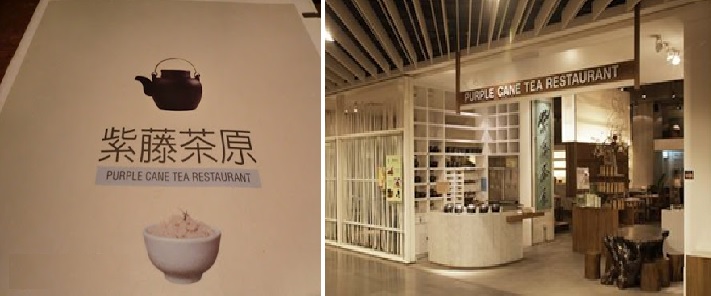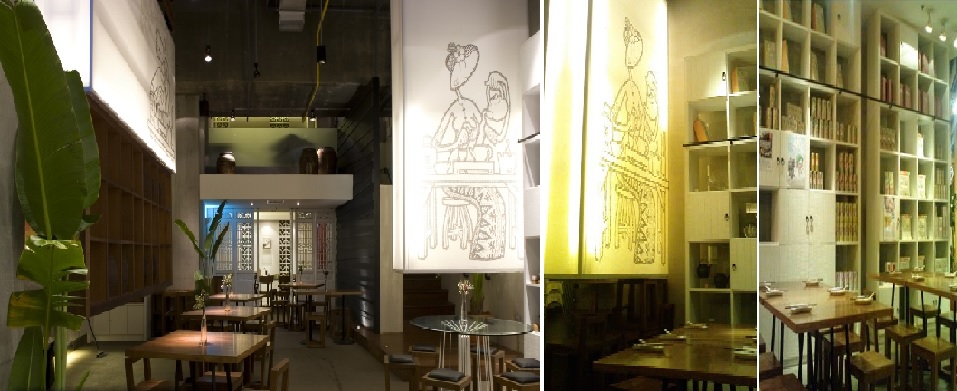 Various soup available such as Lotus Root Soup; Burdock Tea Soup; Kutzu Root Soup and etc. Soup are served in small tea pots, to be sip from the tea cups. Green Tea rice which smell good and nice with dishes. Lei Cha Tea Soup.

Steamed Slice Fish with Mashed Ginger in Tea Sauce; Fried Mee Hoon with Lei Cha; Deep Fried Prawn with Minced Garlic in Rose Tea

Homemade Braised Bean curd in Tea Sauce; Mixed vegetable; Abalone mushrooms stir-fried with Chili and Onions

Green Tea Glutinous Rice Balls with Black Sesame and Peanuts; Rose Lotus Seed Paste; Green Tea Summer Pudding; Cold Winter Jelly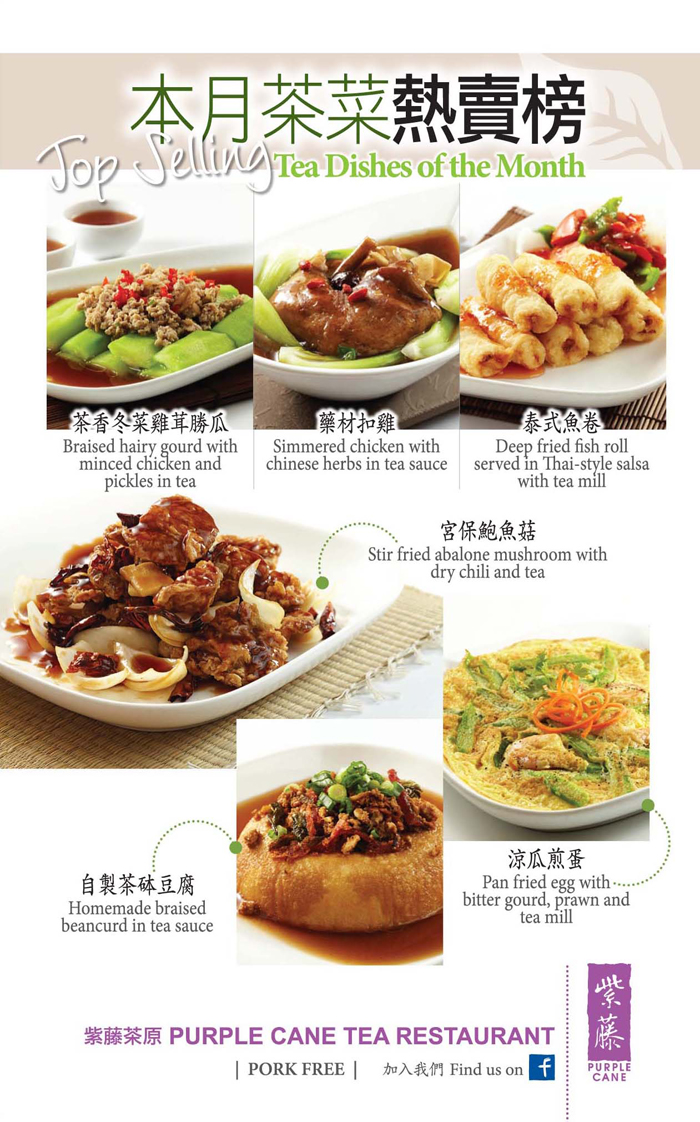 Purple Cane Tea Restaurant suitable for patrons that concern on food healthy as well as patrons that love tea; enjoy tea while food on tea. There is also a large selection of tea to be purchased and enjoyed at home, if you prefer.
*Price Range (per person): RM30 ~ RM50
Others Outlets:
紫藤茶原 – 隆雪華堂
The KL & Selangor Chinese Assembly Hall
No.1, Jalan Maharajalela,
50150 Kuala Lumpur, Malaysia.
Tel: +603-2272 3090
紫藤茶原 – 邵氏廣場
Shaw Parade, KL
Lot GL-02, Ground Floor, Shaw Parade,
Changkat Thambi Dollah,
55100 Kuala Lumpur, Malaysia.
Tel : 603 – 2145 3090

紫藤茶原 – 佰樂泰廣場
Paradigm Mall, PJ
Lot 09, Level 1, Boulevard, Paradigm Mall.
No.1, Jalan SS27/26A, Kelana Jaya,
47301 PJ, Selangor, Malaysia.
Tel : 603 – 7886 1598

紫藤茶館(怡保)
Purple Cane Tea House, Ipoh
No.2, Jalan Dato Tahwil Azar (Osborne Street),
30300 Ipoh, Perak, Malaysia.
Tel: 05-253 3090
Address
Contact Info
Business Hour
Lot LG 206, Lower Ground Floor, The Gardens,Mid Valley City, Lingkaran Syed Putra, 59200 Kuala Lumpur.