Goon Wah Claypot XO Fish Head Noodle 冠华XO 鱼头米 @ Kuchai Lama
Goon Wah Claypot XO Fish Head Noodle 冠华XO 鱼头米 is one of the popular restaurant at Kuchai Lama or even in KL that specializes in their Claypot XO Fish Head Noodles. Goon Wah initially started out as a buffet catering business but now has expanded into a full fledged restaurant. Previously the restaurant only opended during weekdays and good news that it has started to extend the operation days to Saturday since year end of 2013 and also expanded to 3 shoplots now.
The place is difficult to have parking and you may need to park at the housing area and have a short distance walk. All of the restaurant signature dishes and most ordered dishes are hang up on the wall.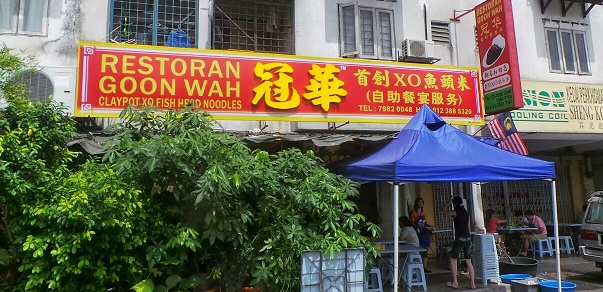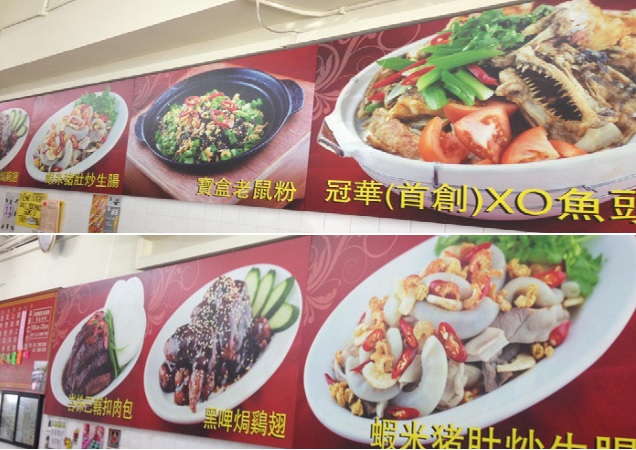 Fish head noodles at Goon Wah does not put any XO sauce or XO wine, the meaning of XO fish head noodle just to indicate that the noodle as nice as top of wine; the XO which is the best. Fish head noodle here has fusion taste of teow chew with yam slices, fried fish head, tofu cubes, tomatoes and salted vegetables. The soup is a bit milkly and cook with thick bee hoon so the texture is good, soup is flavorful and delicious; you may request for soup refill as well.

Claypot "lau shu fen" 宝盒老鼠粉 is another popular dish and it appear on most of the table. It came with a generous amount of minced pork, pork lard and dried shrimp, you basically mix all the ingredients together just like you cook the dish.

Mix Fried Pig Intestinech 虾米猪肚炒生肠 - fried with special sauce and dried shrimps, chewy texture
Stout Chicken Wings 黑啤焗鸡翼 - barbecued before glazed with a sweet and thick caramelised sauce then finally coated with sesame seeds
Food served was quick but may a bit difficult to have a table during peak hours. Normally the staff will helps to take order first while you wait for a seat so your food can be quickly be served once seated. Meanwhile, there is another eatery down the road that imitates the outlook of Goon Wah and selling same type of food, so be sure to have the correct one.
*Price Range (per person): RM20 ~ RM30
Address
Contact Info
Business Hour
G13, Jalan 3/115C, Block KP 2, Taman Kuchai Jaya, Off Jalan Kuchai Lama, 58200 Kuala Lumpur
Mon - Fri, 8.30am - 4pm
Sat, 9am - 3pm
Closed on Sunday for Catering Services