Kanna Curry House @ PJ
Kanna Curry House at PJ Section 17 is one of the famous Indian restaurants, you may found it to be expensive but people still gravy for it's hallmark dishes, the throngs of people that still flock here is ample proof. Kanna Curry House was voted Best Banana Leaf in the Time Out KL Food Awards 2012. It was also voted Best Indian Restaurant in 2011.
Well-known for their Banana Leaf Rice, it's served with a trio of vegetables and you can opt for side dishes to complete your meal. Try something from their 'frying station' out front. All manner of marinated seafood await your greedy inspection and they'll quickly be turned into crispy, deep-fried morsels. The deep-fried squid (laden with deep-fried onions and curry leaves) and fried chicken is rightfully popular.
The restaurant is huge, occupying two shop lots and you can also opt to sit at the outdoor area that is nicely shaded with mature trees.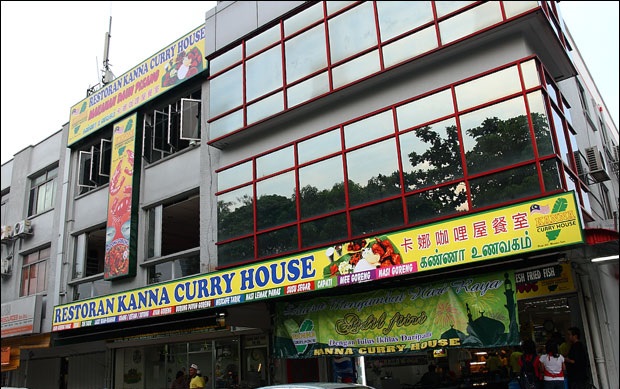 Banana leaf rice is a traditional method of serving rice dishes in South Indian cuisine, white rice is served on a banana leaf with an assortment of vegetables, pickles, papadum and other regional condiments (usually sour, salty and/or spicy). The banana leaf acts as a disposable plate and it in itself is not consumed.
Banana leaf meals are eaten with hand. Banana leaf meal etiquette also dictates that, after the meal, the guest must always fold the banana leaf inwards as a sign of gratitude to the host, even when the host is the proprietor of an eatery. However, when meals are served at funeral wakes, the leaf is folded outwards as a sign of condolence to the family of the deceased. Due to this, folding the leaf outwards is considered rude in any other circumstance. In Malaysia, some Malaysians of non-Indian origin sometimes fold their banana leaf outward as a sign of dissatisfaction with an eatery's banana leaf meal. This is due to the erroneous belief that folding the leaf inwards or outwards is a way of rating the meal.
Three types of gravies are available for you to top up on your banana leaf rice, typically the gravies are fish curry, chicken curry and dhal.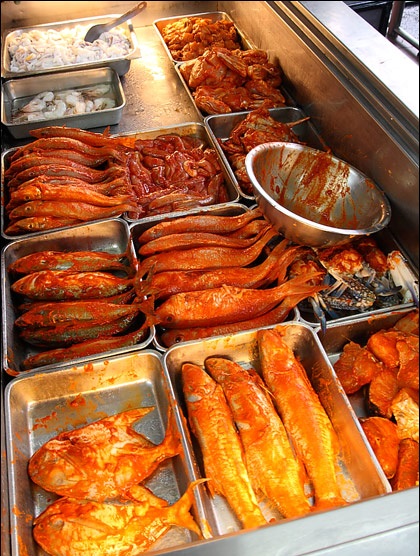 Fried Chicken; Fried Squids; Mutton Curry
*Price Range (per person): RM15 - RM25
Address
Contact Info
Business Hour
No 29, Jalan 17/45, 46400 Petaling Jaya