Spasso Milano @ Pavilion
Spasso Milano, Kuala Lumpur's newest contemporary Italian restaurant, offers cuisine which represents the gambit of all things Italian. Ranging from simple garlic bread; pizza base covered with fresh garlic, olive oil and sea salt; right through to tempting desserts for the sweet tooth, the journey is one to savour. Duck breast, spinach and ricotta dumplings, fresh gnocchi, a range of hand-made & wood-fired pizzas, fresh hand-made pasta, and other exciting delights are available.
Simplicity and understated elegance is the only way to describe the environment. Designed with the busy business professional in mind, as well as the family, and everything in-between, Spasso provides for different levels of relaxed dining. With a separate bar, outdoor veranda, poolside area and formal dining room, an opportunity for everyone to sit back and enjoy the gastronomic sensations in Italian lifestyle.
Spasso Milano has a retail-dine concept, which means if you like some of the pasta that you've eaten here, you can also buy them home to cook yourself.


Beef Carpaccio Cipraini (RM28); beautifully vibrant dish of thinly sliced beef tenderloin on rocket, topped with Parmesan slices and balsamic dressing and dotted with fresh tomatoes.
Smoked Duck Breast (RM23); served with avocado, drizzled with hazelnut oil.
Risotto Alla Milanese (RM32); use carnaroli here (the best quality risotto rice) and cooked in chicken stock and flavoured with saffron.
There are a few types of pasta to choose from and you can pair it with the sauce of your choice. Pizzas at Spasso are cooked in the specialty wood fired pizza oven to produce the thin crispy crust pizza

Orecchiette (little ear pasta) served with all'amatriciana sauce (RM28.80), pasta is served with bacon, onion and pecorino cheese.
Scamorza Affumicata & Speck (RM42), pizza topped with smoked scarmoza cheese imported from Italy and smoked air dried ham (speck).
Pork valdostana (RM38); pork neck escalope, topped with baked ham and fontina cheese and served with pasta aglio olio.

Tiramisu (RM18.80); Millefoglie (RM16.80); the Italian version of the mille feuille, layers of puff pastry with mascarpone cream and mandarin segments, also served with a gelato.
Anti-Pasti Lunch Buffet
The restaurant do provides Anti-Pasti Lunch Buffet at range RM28++ ~ RM38++ and daily Roast of the Day deals featuring sliced roast meat and a salad selection for RM18++.
There was an antipasti bar, comprised of the soup of the day, various grilled vegetables, and a do-it-yourself salad bar with different toppings and dressings. Along with access to the antipasti bar, you're able to order one pizza, pasta or meat dish as your main course.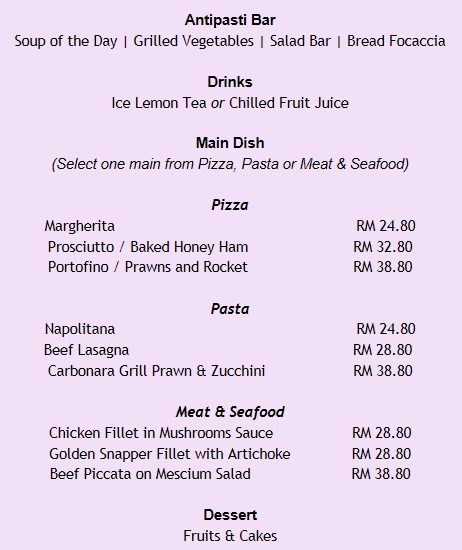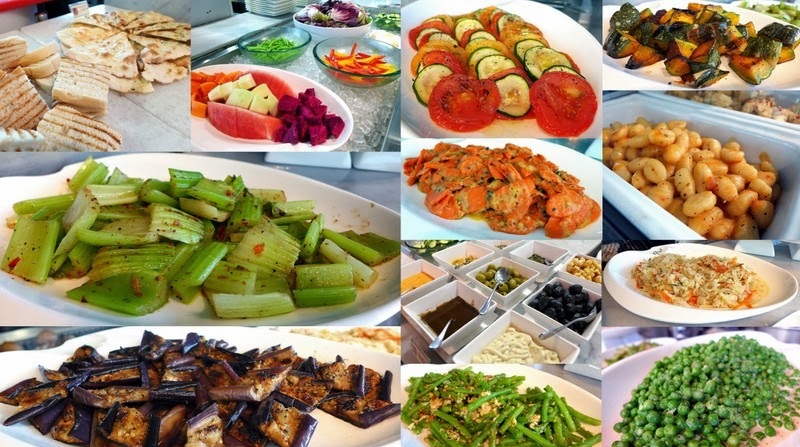 Snapper Fish; Beef Piccata; Carbonara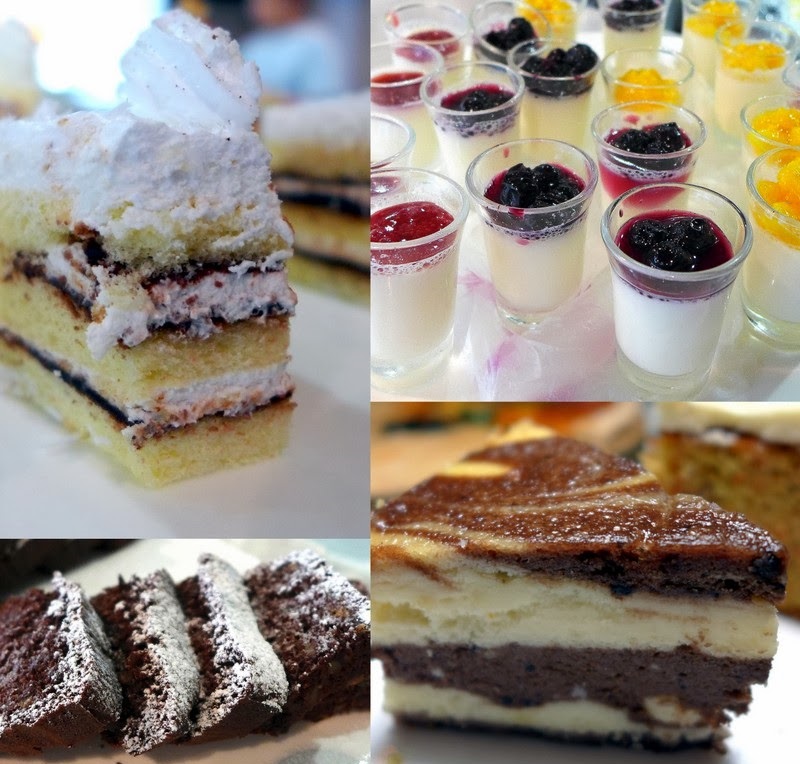 *Price Range (per person): RM50 - RM80
*Anti-Pasti Lunch Buffet: Range RM28++ ~ RM38++

Address
Contact Info
Business Hour
Lot 6.44 & 6.45 Level 6 Pavilion Kuala Lumpur, 55100 Kuala Lumpur, Malaysia
Mon-Sun, 10am-11pm
Anti-pasti Lunch Buffet
Mon-Sun, 12pm - 3pm
*non-halal restaurant